Ayurvedic Massage & Bodywork
Abhyanga lymphatic oil massage – 60 minutes – $125 (90 minutes – $160)
A gentle, loving massage where your body is coated in a sumptuous layer of Ayurvedic herbalized oil. Nourishing to the adrenals and deeply relaxing, this treatment improves sleep quality and boosts the immune system. Excellent for stress, anxiety, pain and lymph health.
Indian Head Massage – 30 minutes – $85
This treatment can stand alone or be included as part of a 90 minute Abhyanga oil massage. The head and neck contain 4 subdoshas as well as 37 marma points. If you experience stress, mental agitation, racing thoughts, excessive Pitta or Vata emotions, headaches or scalp issues, this treatment is for you. It relieves tension in your neck, back and shoulders, improves the texture and health of your hair and stimulates the flow of blood, lymph and oxygen in your upper body, which may clear your sinuses and relieve eye strain.
Lymph Cleanse Treatment (Garshana with Abhyanga) – 90 minutes – $160
Garshana, an ancient form of drybrushing using raw silk gloves and essential oils, boosts your metabolism, activates the lymph, and increases energy. The garshana is followed by an extended Abhyanga oil massage with oils tailored to your dosha. A perfect companion treatment for any type of dietary cleanse, or to boost metabolism. The lymph activation enhances the cleansing process by reducing Kapha and the oil treatment soothes and calms Vata side effects of cleansing like agitation, stress, or anxiety.
Compassionate Heart treatment – 90 minutes – $185 
A perfect summer treat in Pitta season. Great anytime for healing grief, irritability and negative thoughts. Calming especially to hot emotions as well as disappointment in the emotional heart. A full Abhyanga oil massage followed by energy work and a special warm oil treatment for the heart chakra areas.
Marma Therapy (Ayurvedic Energy Work) – 60 minutes – $120 
A combo of Marma massage, herbal creams, essential oils, Reiki and other energy work. The marmas correspond to the chakras and the acupuncture points. This treatment balances the meridians and marmas, which calms emotions and may prevent disease by balancing obstructions in your koshas (energetic layers), that may cause physical manifestation of disease in the future 
Energy Work – 60 minutes – $120
Sarah blends Neurovascular Therapy, Reiki, GeoTran, Holographic Tools with essential oils, flower essences and sound healing to quickly heal and balance emotions, chakras and discomfort. Especially powerful at relieving pain, calming turbulent emotions, and improving sleep.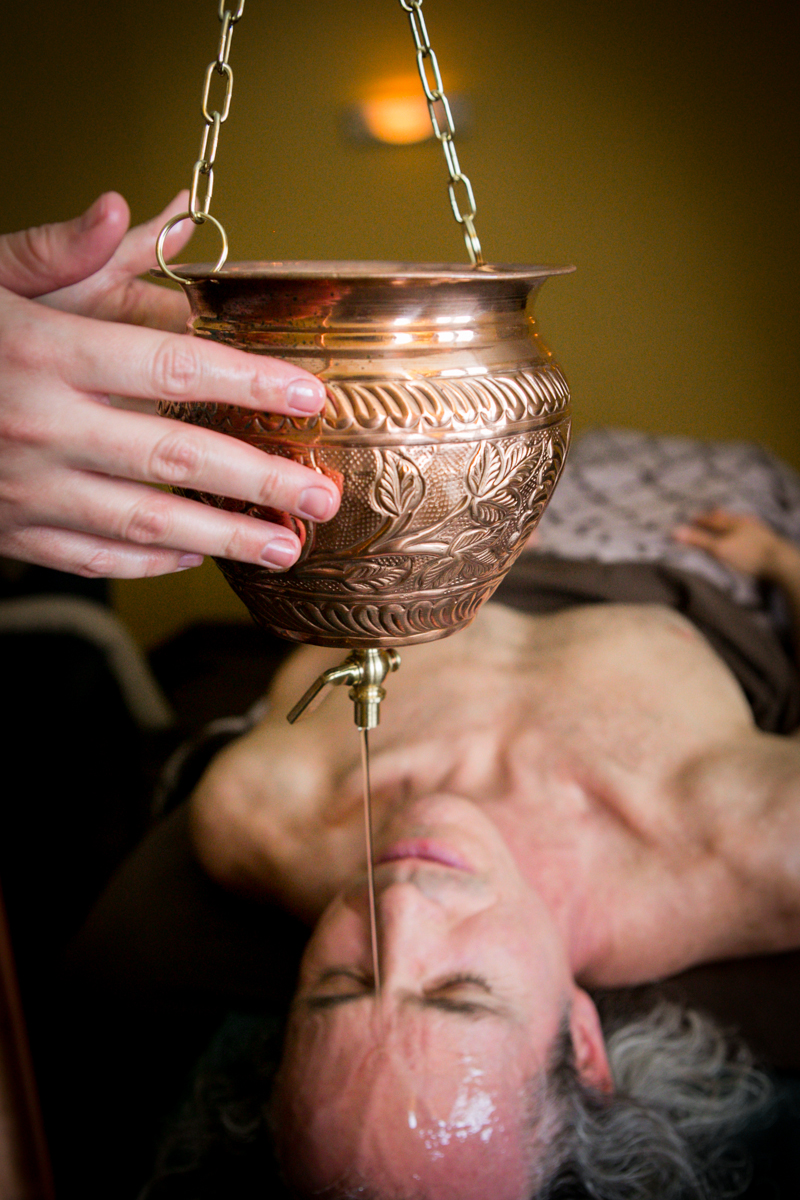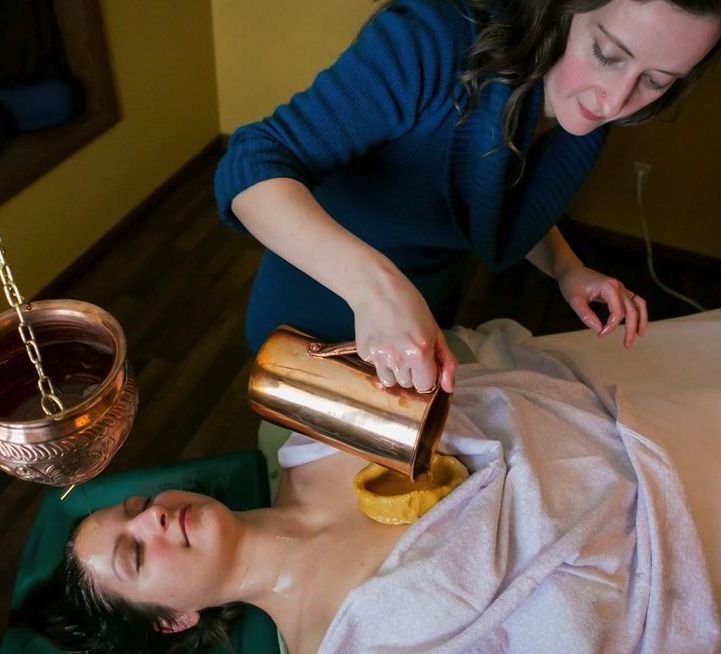 Ayurvedic Facial Treatment for Beauty with Facial Marma- 90 minutes – $155 
You emerge even more beautiful in mind, body and spirit. Luxurious treatment with cleansing facial masks, moisturizers and facial oils made from local and organic skin care products. A facial Marma massage and hand/foot massage included. *no extractions*  May include Ajara Skin Care, REN, Stark, and Dr Hauschka products
Ayurvedic Facial Treatment for Beauty – 60 minutes $120
This gentle organic facial pampers your skin with facial masks, oils, creams and eye serum. Hand and foot massage included. You are left glowing and confident. *no extractions* May include Ajara Skin Care, REN, Stark, and Dr Hauschka products.
Abhyanga/Shirodhara combo treatment- 90 minutes – $220 
The classic Abhyanga massage followed by the quintessential warm oil stream on the forehead Marma points. Excellent for nervous system disorders, anxiety and all Vata conditions. Feels especially calming in cold/dry Vata season (September-January). This incorporates many of the benefits of the Indian Head Massage, but also activates the third eye.
Goddess Weight Loss Treatment  – 2 hours – $245
Especially effective to receive this sumptuous treatment at the end of winter and on a regular schedule throughout the spring (combined with an Ayurvedic food and exercise plan). Starts with a vigorous silk glove massage to move lymph and open pores, then a stimulating oil massage, steam and then an herbal paste massage with cleansing herbs and chick pea flour. You are left with fresh, vibrant skin and boosted metabolism.
Aliven the Senses – 2 hours – $245
Also known as the 5 Sense Therapy, this treatment is wonderful at the change of seasons. Starting with a eucalyptus steam inhalation and vigorous Indian head massage, the client then receives a full Abhyanga oil massage and triphala or ghee treatments for the eyes, oil treatments for the nose and ears. Cleansing and rejuvenating all 5 senses to enter into a new season and reduce seasonal allergy symptoms.
Panchakarma Bodywork 2hrs – $245.00 
Two hour treatments received 3-7 days in a row during a Level 2 Home Panchakarma cleanse. Type of treatments determined by your practitioner based on your goals and your symptoms of imbalance. May include Pinda for reducing Pitta and auto-immune symptoms, sense therapies, or Udvartana.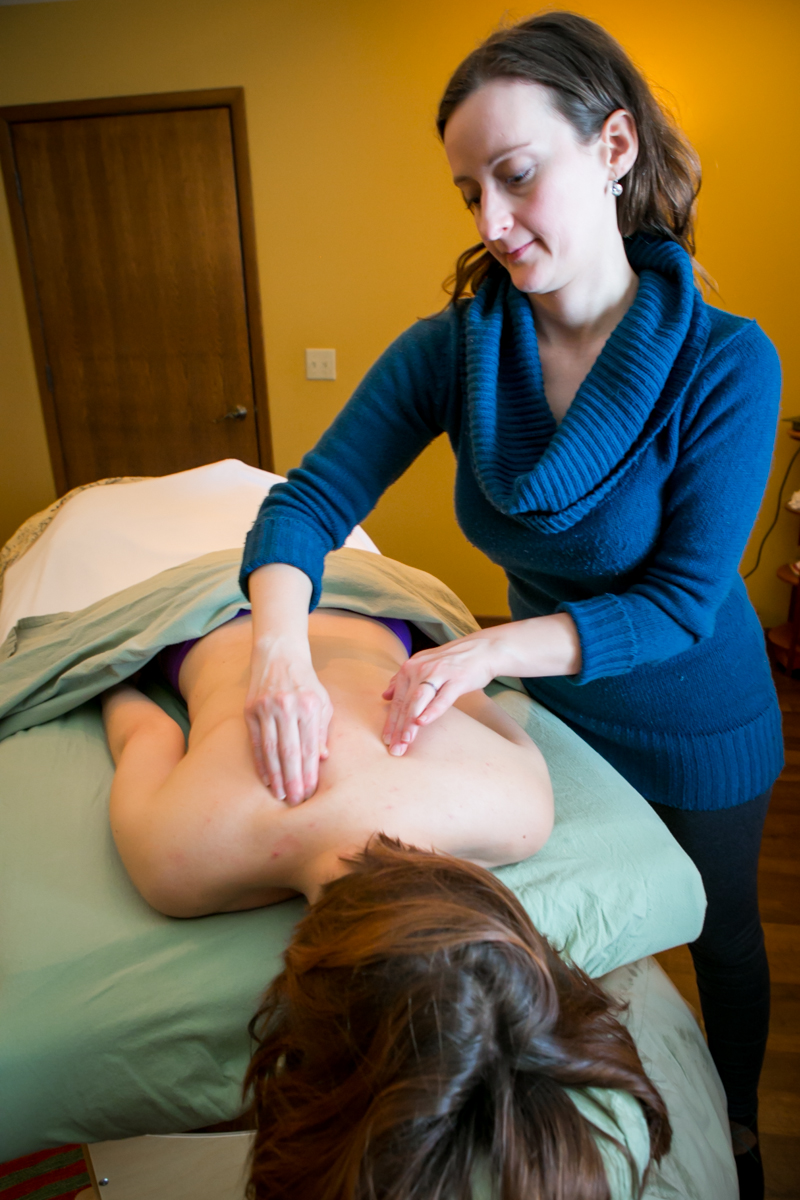 Book services at Perennial Yoga in Fitchburg or use the contact form below for more information on other locations in Madison and Jefferson.